Jeep and 4x4 Accessories
My Daddy and Uncle owned a Jeep and GMC Dealership. I grew up in the garage. I have been riding in and dealing with Jeeps since 1958. I want to share my years of experience with the public. We can help you bring your Jeep to any level you wish for it to be.
Ed Browning
BERG Pedal Karts
We learned about the BERG Pedal Karts at the Oakes Farm Corn Maze. They have a track and BERG Karts. After my wife and son rode all afternoon, they each wanted one. I found that there were no local dealers for East Tennessee, so I became one. We started with the New Holland Tractor fully accessorized, a Jeep Wrangler and a Jeep Junior. We added more to the fleet to share the fun and to demo styles that are not the most expensive. My wife's preference is the BERG Extra AF because it is lighter and she can load it along with a Rally in the back of our truck to take our son to the park. My son's first choice is the New Holland Tractor and finds it useful for hauling things with the forklift attachment and light grading with the blade attachment. For the park he likes the Rally because it is lighter and faster.
Ed Browning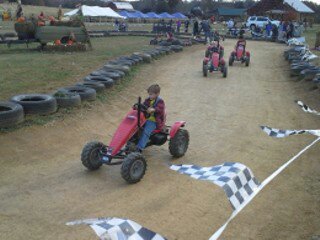 Oakes Farm Corn Maze

The Oakes Farm Corn Maze has an Awesome Track and BERG Case IH and BERG Traxx and BERG Sunlight Karts