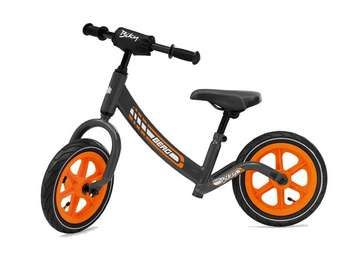 BERG Biky
Fewer scrapes and less time than training wheels, the BERG Biky is the solution to teaching children balance in preparation for a big kid bike!
 Wheels:  Rubber air filled tube tires with a hybrid tread help to keep the biky rolling on virtually any packed surface.  Tires should be filled to around 25 psi, never to exceed 28 psi.  Sealed bearings in each of the color-coordinated rims allow the kart to roll effortlessly.
 Seat:  This bicycle seat is adjustable up and down, just like the handle bars.  A pad, with the Biky logo, covers the adjustment bolt and helps protect against unnecessary bumps and bruises. Once the bike gets rolling, children are able to put their feet on the rear frame tubes to balance and coast.
 Very minimal assembly required, tools included. 2 year manufacturer's warranty against defects.