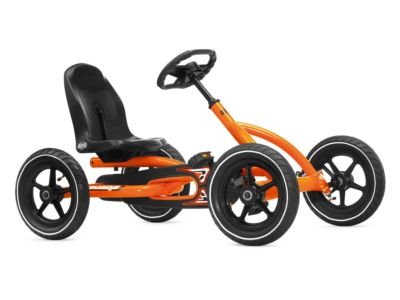 BERG Buddy
Our most popular buddy is perfect for boys or girls! It is no wonder with cool colors, white walled tires, and a sport steering wheel! The recommended age for this size cart is 3-8 years.
Hub: BFR Hub stands for Brake, Forward and Reverse; this hub allows the driver to pedal forward, coast with the pedals remaining static, pedal back slightly to use the coaster brake to stop, once stopped pedal backwards to go in reverse!
Wheels:  Rubber air filled tube tires with a hybrid tread help to keep the kart rolling on virtually any packed surface.  Tires should be filled to around 25 psi, never to exceed 28 psi.  Sealed bearings in each of the color-coordinated rims allow the kart to roll effortlessly.

Seat:  This matching seat not only looks great and offers great back support, it was specifically engineered to be easily adjustable without compromising strength.  The seat post easily fits into a hole and the included pin slides through the post to ensure it stays put no matter the terrain you're driving over. On either side of the frame under the seat is a cool Buddy logo.

Options:  Some popular accessories for this kart include safety flag, horn, flashing light, trailer junior, siren, and LED headlight.

Very minimal assembly required, tools included. 2 year manufacturer's warranty against defects.