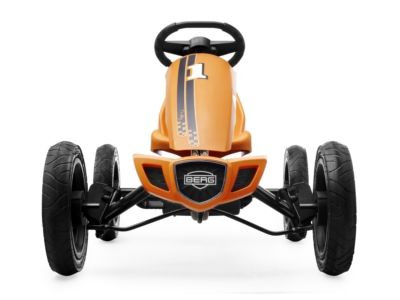 BERG Rally
This kart has been a hit all over Europe because of its convenient size and sporty style.  This kart is made to be ridden by kids ages 4 to 12 years old.  
Hub:
BFR Hub stands for Brake Forward Reverse; this hub allows the rider to pedal forward, coast with the pedals remaining static, pedal back slightly to engage a coaster brake, once stopped pedal backwards to go in reverse!  Built right into the hub casing is a safety flag holder!
Wheels:
Rubber air filled tubeless tires with easy rolling tread pattern and durable plastic rims will last for years. Tires should be filled to around 25 psi, never to exceed 28 psi. Each rim has sealed bearings to keep the kart rolling smoothly for years and years.
Front Fairing:
The orange plastic front displays a redesigned "Rally" graphic and the number 1. Just below the front fairing is an orange cover bearing the BERG logo. Under the steering wheel are more decals showing a pretend speedometer, and other dashboard buttons. The tight and uniquely shaped steering wheel is fun to use; the center bears the BERG logo.  Steering is robust and overall design is sleek.
Sport Seat:
Specially molded plastic seat has stylish orange accents to match beautifully with the karts' overall design.  The contours in the seat make it surprisingly comfortable and durable. The seat is easily adjustable to five different positions without compromising frame strength.  Just behind the seat is a convenient red reflector and spring loaded hitch pin to pull a trailer!  This kart is not only attractive from all sides; it also accommodates a wide size range of drivers.
2 year warranty against manufacturing defects