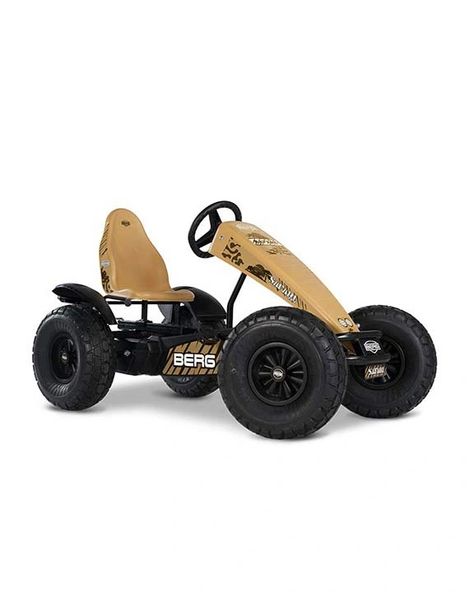 BERG Safari BFR
You always fancied going on safari? This pedal kart will take you anywhere you want to go! Thanks to the impressively large off-road tires you can access the roughest of terrains. Combined with the swing axle, additional grip is guaranteed. This kart is equipped with a unique BFR system for easy riding and stopping to spot wild animals on your trips! Thanks to the camouflage colors you can hide anywhere! Have they spotted you? No need to panic, you can take off in a flash!
Features:
Equipped with the unique BFR Hub, this hub allows the rider to pedal forward, coast with the pedals remaining static, pedal back slightly to engage the coaster brake or use the hand brake to stop, once stopped pedal backwards to go in reverse.
Recommended for ages 5 and up.
15-inch pneumatic, air filled tires, with off-road tread and strong five-spoke rim.
Adjustable seat can be set in 6 different positions
Equipped with a swing axle, so that the rider keeps control of the kart while going over uneven terrain.
The wheels run fast and smooth due to the roll-bearing wheels. You can drive for hours without getting tired.
The easily accessible chain tensioner system allows you to tension the front chain quick and easy for optimal performance.
Parking brake for additional safety.
Accessories: passenger seat, trailer, and so much more!
We have adjusted our go-karts so that most users will be able to pedal easy and comfortably. However, if you feel that it is too heavy to pedal your go-kart, we offer the possibility to purchase a different Crank-Set.
Product Attributes
Weight        131.395352 lb 
User age    5+ 
Warranty on frame (years)    2 
CE        Yes